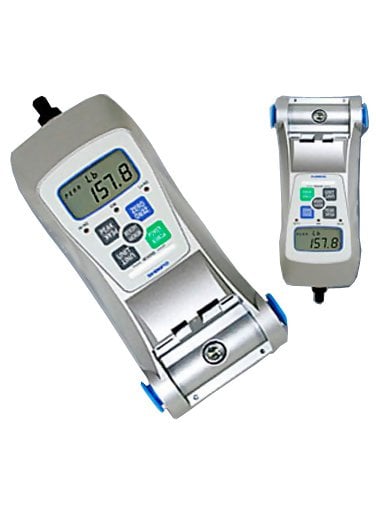 ---
Reversible Keypad and Display
---
1000 Hz Sample Rate, provides more accurate results
---
NIST-Traceable Certificate of Calibration not included (sold separately)
---
TheShimpo FGV-HXY High Capacity Digital Force Gauge offer an enhanced heavy-dutyhousing allowing them to be utilized in high capacity tension andcompression applications. These instruments are utilized in a variety ofapplications such as, incoming quality inspection, finished goodstesting, R&D or almost any portable or force stand testingrequirement.
Models are available in 500 lb. or 1000 lb. ranges providing necessary performance for high capacity testing.
The 180 reversible display combined with the adjustable force directionand dual labeled keypad enable these units to excel in both compressionand tension applications in any direction. FGV models possess onboardstatistical calculations provide fast access to maximum, minimum,average and standard deviation data. Models includes software and RS-232cable allowing further data analysis on a PC. The FGV-HXYs 1,000 pointmemory allows for data exporting in real time or after testing iscomplete. In addition, the RS-232C, USB and analog outputs providemaximum communication flexibility.
Shimpo FGV-HXY High Capacity Digital Force Gauge
ACadapter/charger
2 handles
metric thread to inch adapterand attachments (flat head, hook,chisel, notched head, cone head, extension rod)
USB cable
RS-232 cableincluded
Carrying case
1000 Hz Sample Rate provides faster sampling producing better resolution and more accurate results
On board statistics provides immediate results and analysis of test data
Quick retrieval of peak measurement with a single push button in test stand
Operates using rechargeable battery or AC line voltage
User selection of engineering units (Lbs, Kf or Newtons) and User-set display update rate allows optimal setting for each type of test
Include built-in datalogger with 3 outputs: USB, RS-232 & Analog Output
180 Reversible display and dual printed keypad allows usage as a portable gauge or mounted upside down on a test stand
Provide Built-In Hi-Lo Comparator function provides user with easy Go-No Go Testing
High-capacity rugged, ergonomic die cast aluminum construction allows usage on production floor
CE & RoHs Certified
Measure and record compression and tension tests. Permits true "push-pull" testing
| | |
| --- | --- |
| Accuracy | 0.2% F.S. |
| Display | Four digit LCD, .47 high (12 mm) with various indicators includingtension and low battery indication (reversible) Minus sign for tension |
| Display Update Rate | 0.05, 0.1, 0.2, 0.3, 0.5, 1 sec |
| Sampling Rate | 1000 Hz |
| Average/Peak Mode | Selectable |
| Overload Capacity | 150% of F.S. |
| Power | Rechargeable Ni-Cad batteries (included) or AC adapter/charger (included) |
| Auto Power Shut-Off | Yes (not active if adapter/charge is in use) |
| Battery Charge | 17 hours (when fully charged) |
| Temperature Range | 32 - 104F (0 - 40C) |
| Dimensions | 8.43" x 3.23" x 2.25" (214 x 82 x 57 mm) |
| Product Weight | Approx. 2 lb (900 g) for 500 lb range; 2.65 lb (1.20 kg) for 1000 lb range |
| Package Weight | Approx. 7.45 lb (3.38 kg) for 500 lb range; 8.25 lb (3.74 kg) for 1000 lb range |
| Certification | CE, RoHs |
Model
Capacity
Resolution
FGV-500HXY
500 lb
250 kg
25000 N
0.1 lb
0.1 kg
1 N
FGV-1000HXY
1000 lb
453.6 kg
4448 N
0.1 lb
0.1 kg
1 N